09 March 2022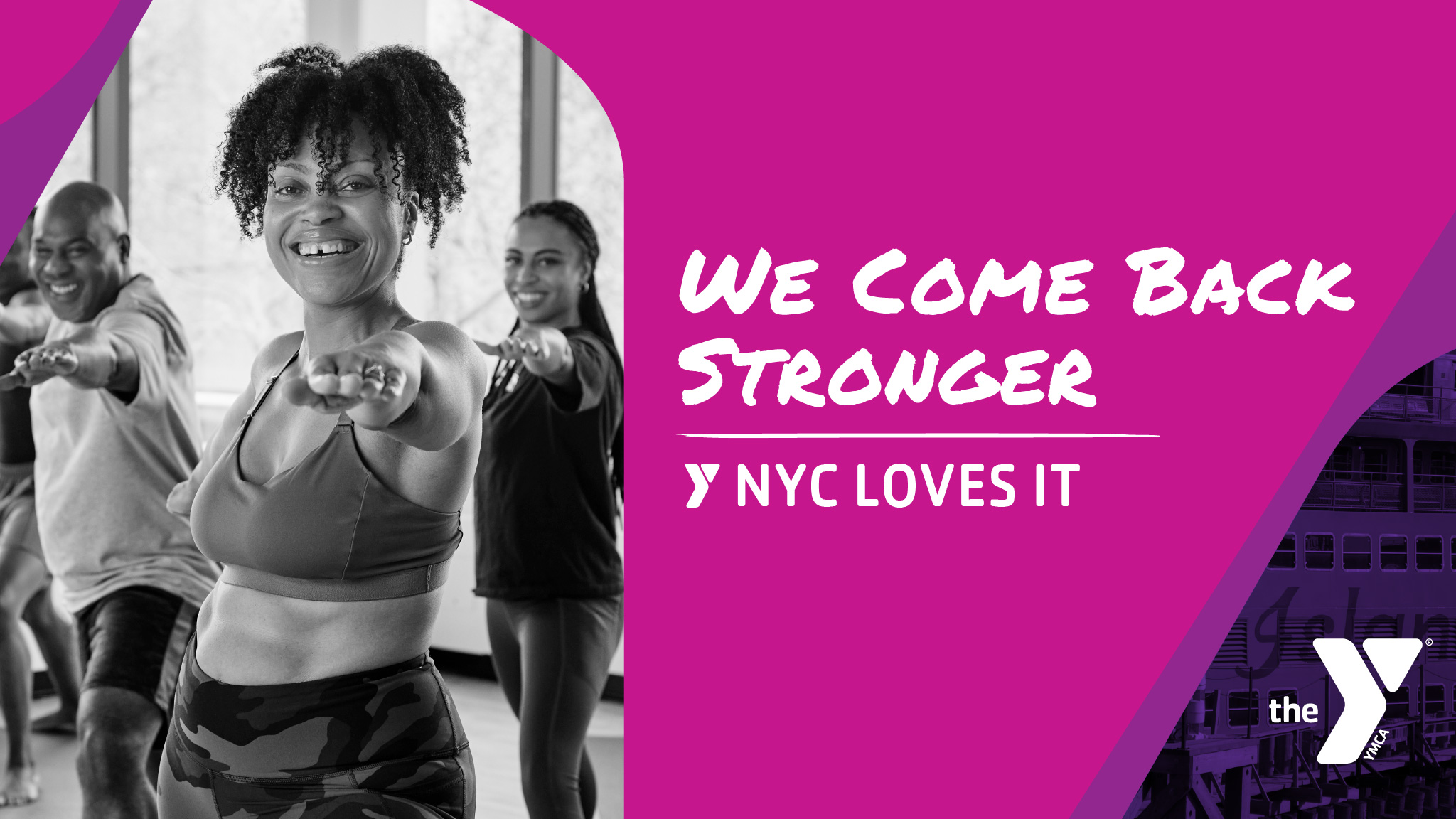 The YMCA of Greater New York Launches a New Campaign Dedicated to Its Evolution as New York Emerges from the Pandemic 
New York, NY, March 2022 — The YMCA of Greater New York is launching a new campaign to reestablish its iconic identity as New York City's trusted nonprofit community service and wellness organization as the organization celebrates its 170th anniversary in 2022. With New York still recovering from the COVID-19 pandemic, the YMCA wants to remind New Yorkers of its unique commitment to holistic health—physical, community and mental.  
Titled Y NYC Loves It, the campaign serves to amplify and clarify the YMCA's extensive programming and state-of-the-art facilities. Many New Yorkers are familiar with the Y's health and wellness offerings: expansive pools, beloved trainers, and basketball leagues. But how many are familiar with the Y's immigration services, Universal Pre-K, afterschool and extensive teen programs?  
YMCA commissioned Accompany Creative, a New York City-based, mission-driven agency, to create the Y NYC Loves It campaign. With New York City's pandemic recovery still underway, community is top of mind more than ever. The YMCA and Accompany have developed a new storytelling lens to remind New Yorkers how special it is to be a part of the Y for wellness, fitness, and social support across the five boroughs.  
"Over the last 170 years, the Y has become New York City's leading nonprofit community service and wellness organization. Our new campaign, Y NYC Loves It, is all about the different reasons why New Yorkers love the Y," said Ronnie Tucker, Senior Vice President, Chief Marketing and Communications Officer, for the YMCA of Greater New York. "Accompany Creative understood our brand and impact on New York from the start. They beautifully captured the heart of the Y with imagery and video of our members, staff and facilities in action—showcasing our state-of-the-art equipment, game-changing instructors, full sized pools, and welcoming community. This is a special moment in time for New Yorkers, and all we have collectively been through over the past two years. It was important for us to drive an emotional connection with our brand and we are hopeful this campaign will help New Yorkers deepen their understanding of all the benefits that come from joining their local Y community."  
"We wanted to showcase the untold story of the Y—it's so much more than a gym; it's a force of good in every community," says Jason Keehn, founder of Accompany Creative. The Y offers a sense of wellness, progress, unity, and civility that's not wrapped in a glossy or cheeky corporate brand."
"We wanted to bring the good vibes of the fitness experience forward by casting real members and trainers for the campaign," says Jason. "It portrays the true New York YMCA experience, diverse yet together across communities, age groups, income levels, body types, and fitness activities." 
The images capture actual Y members and staff engaging in their favorite services and activities—swimming, conditioning, spinning, yoga, basketball, and group fitness classes—with taglines including Best Pools Around, Game Changing Trainers, Classes from A to Zumba and "We Come Back Stronger."  
To that end, the effects of the COVID-19 pandemic had deep and lasting impacts on the YMCA. Before Covid struck, the Y was serving 500,000 New Yorkers annually. As an organization, the Y endured great hardships: revenue dropped by 50 percent, all facilities closed for more than six months and services were temporarily reduced.  
Yet the Y responded with speed and urgency to support its communities in new ways through expanded housing and homeless services, emergency childcare, remote learning for young people and offered virtual exercise classes and activities free to all New Yorkers. There was also support services for immigrants via virtual counseling, case management assistance, and online English for Speakers of Other Languages (ESOL) classes. 
New York City's YMCA evolved services to meet the needs of the moment: vaccinating New Yorkers, distributing food to communities facing acute hunger, and running in-person day camps to allow parents to return to work. 
The Y NYC Loves It campaign showcases the attitudes and values that define the Y as it continues to welcome, serve, and surprise. With a deepened understanding of the pivotal role it plays in its communities, the Y has expanded its vision of the opportunities it can employ to fulfill its mission.
In Fall 2021, the YMCA completed construction on the two newest branches in New York City. The Northeast Bronx Y opened in September 2021, and La Central Y will open in Spring, 2022. 
These two state-of-the-art facilities are designed to serve 50,000 Bronx residents and were made possible by the partnership of passionate community advocates and local elected officials. 
To deepen the YMCA of Greater New York's commitment to serve ALL New Yorkers, it will launch a bold, new initiative in 2022 that leverages the YMCA's long-standing expertise in youth development, preventative health, and community engagement. The first major effort of this new initiative will address New York City's lifeguard shortage and provide expanded opportunities for all New Yorkers who want to learn how to swim.  
As the Y NYC Loves It campaign explains, the YMCA offers so much more to its communities than fitness. But that is a big reason Y everyone loves it. 
About Accompany Creative 
Accompany Creative is an innovative agency centered on creatively expressing a brand's social mission and purpose to help them "do more good." The team is a collective of mission-driven branding, marketing, pr, product design, merchandising, and sustainable sourcing leaders that aim to help brands engage consumers as they seek to patronize businesses that offer conscientious products and services. As a partner, Accompany combines expertise in both impact-minded product design and aspiration-led storytelling campaigns. Accompany offers turn-key solutions for brands looking to create authentic purpose platforms from scratch and always grounded in product experience.   
Accompany's client roster includes Nespresso, NBC Universal, Unilever, 1 Hotels, ABC Carpet & Home, Target, Faherty, and Unsubscribed (a new conscious, "slow fashion" store from American Eagle). Accompany is proudly a certified B Corp dedicated to driving prosperity by designing and producing handcrafted lifestyle goods in collaboration with indigenous communities, fair trade workshops and philanthropic NGOs in 50 countries around the world, including several communities impacted in the U.S. 
About the YMCA of Greater New York 
For 170 years, the YMCA of Greater New York has been helping all New Yorkers reach their full potential. As New York City's leading nonprofit community service and wellness organization, the Y empowers everyone, no matter who they are or where they're from, by providing access and opportunities for all to learn, grow, and thrive. We provide a place to play, to be healthy, and to give back. We give parents childcare, young adults job training, seniors a way to connect, and children a safe place to go. By bringing people together from different backgrounds, perspectives, and generations, the Y improves overall health and well-being, ignites youth empowerment, and connects and supports diverse communities across New York City. Follow us on Facebook, Twitter, and Instagram at @ymcanyc.